CS Annual Fair In Software Engineering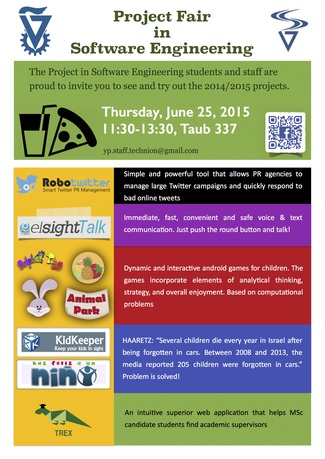 Date:

Thursday, 25.6.2015, 13:30

Place:

Room 337-8, Taub Bld.
CS Software Engineering students invite you to attend the CS Annual Fair in Software Engineering which will be held by the project teams on Thursday-Noon, June 25 2015, between 11:30-13:30, in room 337 (3rd Floor), CS Taub Building as follows:

Robotwitter - Respond automatically to hostile campaigns on Twitter

elsightTalk - Push the round button and talk!

Animal Park, Dolphin Tag, Fruit Shake & Bunny Land - Innovative games for boosting your child's analytical and strategic thinking!

KidKeeper & Niño - Put an end to your anxiety and keep your kids in sight

TREX - Find your academic supervisor faster and easier than ever

Your are all welcome!
Documents